Software development outsourcing has become a common practice that provides strategic advantages such as resource savings, access to experts, and project execution speed. Specialists and research companies note an increasing demand for IT outsourcing.
Google, the largest IT company, uses software development outsourcing to make software solutions economically efficient. The company outsources the development of Android systems to third-party service providers. Additionally, the IT giant utilizes the services of freelancers to bring fresh perspectives and unique skills into the software development process.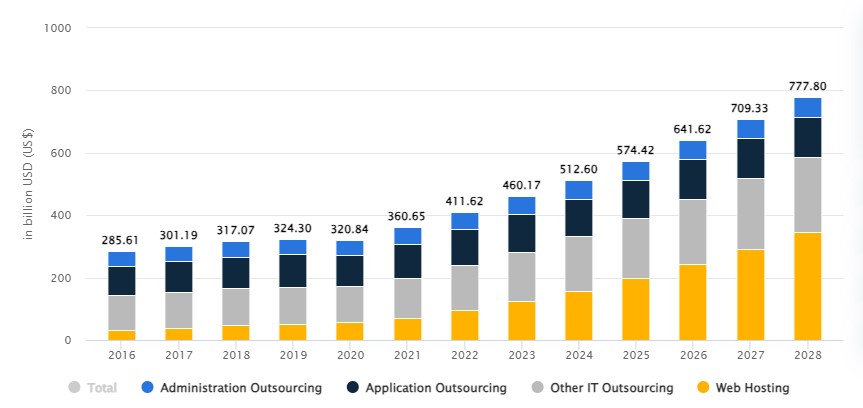 Statista.com forecast on the development of the outsourcing market. Source: company's website.
In what other cases should software development outsourcing be used? Popular scenarios include:
Resource limitations: Companies in early stages of development face financial limitations and lack of expertise. Software development outsourcing eliminates bottlenecks by providing access to skilled specialists without the need for recruitment and adaptation costs.
Project spikes: Even large enterprises with experienced development teams can benefit from outsourcing when they face sudden increases in project requirements or tight deadlines.
Rapid company growth: Companies experiencing rapid growth struggle with hiring and adapting new developers, analysts, and testers. Outsourcing the entire development cycle or certain stages can be an effective solution to overcome staff shortage.
Specific expertise: Sometimes projects require the expertise that is not available in-house. Software development outsourcing allows companies to leverage the services of highly skilled specialists for a specific duration.
Budget reduction: To reduce development costs, companies can engage specialists from regions with lower labor expenses. Eastern Europe is considered one of the most attractive regions, as specialists from this region can offer high competence at favorable prices.
High service and support requirements: Companies serving clients in different time zones can utilize external teams to provide 24/7 customer support.
Experts highlight several in-demand directions for IT outsourcing:
Cloud software development: Cloud technologies help save costs, time, and effort. Many companies seek development partners to create cloud-based applications.
Software and data security services: These services require special competencies and experience. However, not all companies can afford to have an in-house team with the necessary skills and prefer outsourcing.
Agile and DevOps: The main driver of demand for these services is meeting the dynamic and evolving business needs.
Artificial intelligence and machine learning: AI has become an optimal tool for improving productivity, reducing costs, and detecting fraud. Therefore, businesses integrate AI capabilities into their existing systems or create new ones.
Software maintenance and support: Through external teams, services can be available around the clock at an advantageous price.
What problems may accompany the use of outsourcing services?
Despite the obvious benefits, many companies avoid software development outsourcing for several reasons:
Uncertainty about the qualifications of the outsourcing company's specialists.
Lack of experience in working with external teams.
Concerns about losing control over the development process.
Communication difficulties.
You can read our article about dealing with outsourcing partners through team integration, communication, and establishing interaction rules.
How to control the work of an outsourcing team?
In order to minimize risks and make the project transparent to clients, Epol Soft has developed and implemented a set of indicators that allow assessing the quality of the team's work:
Quality of specialists' work and their competence.
Level of presentation of work results.
Effectiveness of verbal and written communication.
Quality of work planning.
The information obtained is used for analysis and process adjustments.
For over 15 years, Epol Soft has been providing specialists, teams, and complete software development cycles for:
Telecommunications industry.
Medical sector.
Smart cities.
Government agencies.
The description of our projects and competencies can be found at the link.