How does IoT work its wonders in medicine?
IoT in healthcare is revolutionizing the industry. IT technologies, with IoT in particular, are changing many industries and the way things get done. IoT makes cities friendlier and more comfortable to live in, collects useful data for managing production processes, and controls home devices.
According to research companies, medical IoT is one of the leaders in implementing smart devices. These devices allow medicine to be more convenient, accessible, and comfortable, to go beyond traditional clinic conditions and improve patient care both in hospitals and outside of them.
One such example is hearing screening. Screening for hearing impairments requires special equipment and qualified specialists to analyze the results, which are not always available to residents of remote areas. Conducting such research required significant travel distances and time costs.
The solution can be a system that does not require complex, expensive devices, allowing research to be conducted remotely and transmitted to a specialist.
The company HearScreen has developed software that remotely performs hearing screenings without the need for an experienced specialist or visiting a medical facility. Headphones and mobile device are required for the research. The patient reacts to the sound in the headphones, and the results of the research get visualized in the mobile application, then they can be saved or sent to a more experienced specialist.
According to the company's data, more than 400,000 people have undergone research using the system, which takes less than a minute and requires 90% less time than manual methods do. The obvious advantage of the solution is the ability to provide medical care to a larger number of patients without moving people or doctors.
One of the most alarming trends is the increase in the number of people with diabetes. In the United States, an intelligent sensor has been developed that allows for continuous monitoring of glucose levels. The Eversense system consists of a sensor, a transmitting part and an application. It provides easy-to-use continuous monitoring of diabetes in real-time and storage of research results.
Falling is one of the most dangerous accidents for elderly people. Diagnosing the causes, consequences, and providing timely assistance is the key to restoring health and returning to normal life. Many elderly people live alone and do not have people nearby who could monitor them and report the need for assistance. To detect falls, Semtech has developed a system that:
collects data on movement;
transmits information about movement to the cloud for real-time analysis and fall detection;
alerts medical professionals.
In addition to the above cases, medical IoT allows for:
continuous monitoring of health status;
storing a large amount of data and receiving it in an easy-to-perceive format;
collecting patient data regardless of location;
conducting research without reducing the quality of life;
ensuring the accuracy and timeliness of health status data.
What other operations and processes does medical IoT optimize? There are several interesting cases:
1. Patient condition monitoring.
Continuous medical monitoring is not always technically possible, reduces the quality of life, and requires hospitalization. Medical IoT allows for remote control of health indicators in home conditions:
glucose level;
heart rate;
blood pressure.
2. Personal health monitoring.
Unlike the previous item, personal medical devices and applications work preventively and can detect minor changes in physiological parameters, allowing for intervention at an early stage.
3. Equipment management.
Medical IoT allows for:
monitoring the condition and performance of critical equipment, informing service departments in case of malfunctions;
controlling the location of devices and determining their availability, allowing for more efficient asset management and optimization of their use.
4. Medication intake control.
Smart devices remind patients of medication intake times and record them, providing information on the effect of medications on the patient's condition, allowing to draw conclusions about the success of treatment and the actions of individual medication.
5. Smart hospital environment.
Sensors monitor the internal environment (temperature, noise, humidity, light, windows and doors) and allow for:
adjusting parameters;
creating the most favorable conditions for patient treatment and stay.
IoT in medicine allows for the creation of a preventive and proactive healthcare system, not limited to just reacting to deteriorating health conditions. IoMT increases the speed and accuracy of diagnosis and treatment, which positively affects people's quality of life and the efficiency of medical institutions.
The architecture of medical IoT consists of 3 levels:
data collection;
network infrastructure;
visualization applications.
IoMT Architecture
Epol Soft develops software solutions for IoT device networks, including Operation Support Systems which:
monitor device performance;
allow remote equipment configuration;
signal and prioritize messages about deviations in operation.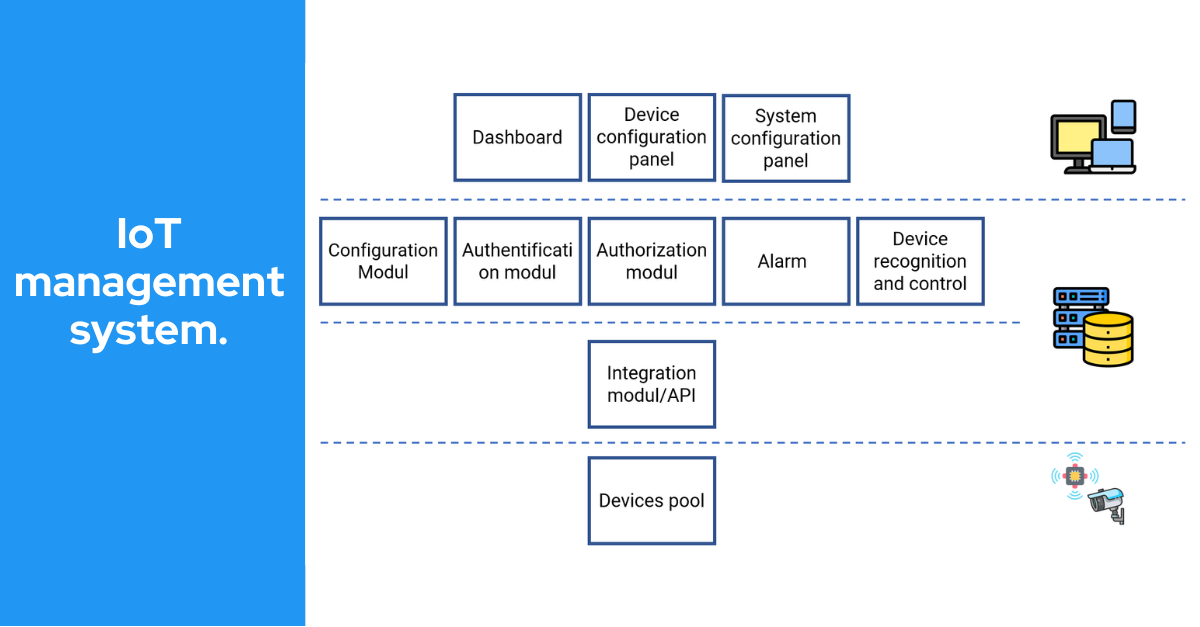 You can learn more about IoT competencies, experience, and projects on our IoT page.